Dr Jane Lomholt
Teresa Bickelmann
Maike Hüholt
Alexander Marek
Jochen Schmitt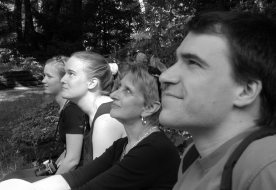 Introduction
In the Winter Semester of 2000, guest professor Dr. Jane Lomholt set a project for the design of a library of urban studies and for an archive of original drawings, plans, paintings, models and documents relating to the architect and town planner Hermann Hussong. This project fostered also in the students an intense interest in Hussong's life, his work and his significance for the city of Kaiserslautern.
Hussong's pronounced influence on the urban development and building projects of early 20th century Kaiserslautern contrasts with the scant present day knowledge about his life and awareness of his work.
In order to make the information gathered available to a broader public, a group of students in cooperation with Dr. Lomholt decided to organize an exhibition in Kaiserslautern. It is hoped by the team to eventually publish documentation illuminating the life and work of this remarkable man.